Publications
2021 Weaving Windmill Loops to Create Surfaces with Varying Curvature. Stephanie Bunn, Mary Crabb, Hilary Burns, Geraldine Jones, Charlotte Megroureche, Ricardo Nemirovsky. The Bridges Organisation 2021.
2020 The Material Culture of Basketry edited by Stephanie Bunn and Victoria Mitchell.
I am a contributing basketmaker writing a chapter in Part Two: Basketry as maths, pattern and engineering – Counting, number, loops and lines…
2020 Making Histories, Sharing Histories: Putting University – Community Collaboration into Practice 
I have contributed 'Studying Objects' as a community researcher for the Basketry & Beyond heritage group.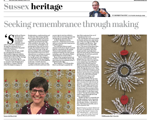 2018 Seeking remembrance through making by Rupert Toovey.
Page courtesy of the West Sussex Gazette.
2018 Beyond the Battlefields
Kathe Buchlers Photographs of Germany in the Great War. This book contains a short contribution, made my me, in response to a photograph from the collection. A copy of the publication can be purchased through UH Press.
2017    Featured artist, Meet the makers, Countryside Voice CPRE, Summer 2017
2016    Featured artist, Silver Award 2016: Specialist Media, craft&design September/October 2016
2012    Work featured in Practical basketry techniques, Stella Harding & Shane Waltener
2009    Image included in The Craft Blueprint: a Workforce Development Plan for Crafts in the UK, Creative & Cultural Skills and Crafts Council