CURRENT EXHIBITIONS
Group Exhibition
20 July – 13 October 2019
Basketry – Function & Ornament
Basketry: Function & Ornament looks at current practice of some thirty makers from throughout the UK. It brings together functional vernacular work from various parts of the country, alongside pieces that are sculptural and ornamental. It is a survey of a craft that has been somewhat sidelined in times of great technological advances, yet offers a sustainable answer to so much of our modern day throw-away habits.
RUTHIN CRAFT CENTRE
THE CENTRE FOR THE APPLIED ARTS
PARK ROAD, RUTHIN
DENBIGHSHIRE
LL15 1BB
To visit Ruthin Craft Centre website for more information, please click here.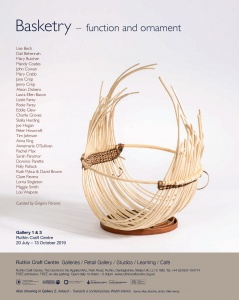 PAST EXHIBITIONS
Solo Exhibitions
2018
Significant Figures: remembrance through making. Oxmarket Gallery, Chichester.
2012
Willow to Wire, Horsham Museum & Art Gallery
Group Exhibitions
2018
MADE: folding, bending, weaving, twisting. Qube Gallery, Oswestry.
2016
Summer Show 2016: Weave, The Makers Guild in Wales, Craft in the Bay
2015
Inspire: Winter Selling Exhibition, Walford Mill Crafts, Wimbourne, Dorset
Back to the Beach, Worthing Museum & Art Gallery
Beastly Magic, SITselect
Basketry Identity, Riverhouse Barn Arts Centre, Walton-on-Thames
Tutor's Exhibition, West Dean College
2014
The Costume and Textile Association for Norfolk Museums Geoffrey Squire Memorial Exhibition and Competition 'Silvery Threads', Norwich Cathedral
2013
Worshipful Company of Basketmakers, Guildhall Library, London
Light, Line and Form with Debbie Forsdyke and Sarah Sepe, Steyning Museum
2011
Basketry Exhibition with Stella Harding, Mary Crabb and Maggie Smith, New Ashgate Gallery, Farnham
Basketry Arts Useful & Beautiful, The Apricot Gallery, The Rag Factory, London
2010-11
Precious Reclaiming Art and Craft, Hove Museum & Art Gallery, touring nationwide
2010
West Dean College, New Tutors Exhibition
ArtCraftDesign Dialogue, Christine Walker Gallery
2009
Brighton Fringe Festival and Steyning Festival, Cow Shed Studios
2008
World Basketry, Pinolere Cultural Association
2007
Christmas Present Exhibition, Grace Barrand Design Centre
Arts Festival, Grace Barrand Design Centre