Statement
From a childhood spent making, I now make small woven non-functional decorative objects. Originally learning to make traditional willow baskets, an introduction to textile basketry and the suggestion to try some different materials took my making in a new direction. Working with fine flexible materials, I weave using adapted traditional basketry techniques.
My favourite technique is twining. It requires the weaving of an active element around a passive warp. The weaving gives a smooth, slightly undulating surface. Although repetitive and time consuming, the placing of each weaver informs the final piece. Read more >>
CV
Solo Exhibitions
2018
Significant Figures: remembrance through making. Oxmarket Gallery, Chichester.
2012
Willow to Wire, Horsham Museum & Art Gallery
Group Exhibitions
2018
MADE: folding, bending, weaving, twisting. Qube Gallery, Oswestry.
2016
Summer Show 2016: Weave, The Makers Guild in Wales, Craft in the Bay
2015
Inspire: Winter Selling Exhibition, Walford Mill Crafts, Wimbourne, Dorset
Read more >>
Publications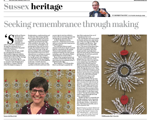 Seeking remembrance through making by Rupert Toovey.
Page courtesy of the West Sussex Gazette.
Beyond the Battlefields
Kathe Buchlers Photographs of Germany in the Great War. This book contains a short contribution, made my me, in response to a photograph from the collection. A copy of the publication can be purchased through UH Press.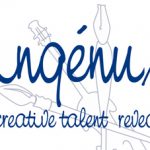 Significant Figures
Talks and workshops with basketmaker Mary Crabb